You may not see any news about it, or comment on television. Nor will you see it published on a website specialized in books or entertainment. Of course, your influencer on duty will not comment on it either. Possibly almost no one echoes… But today I announced that… We have broken the barrier of one hundred thousand books sold / distributed in Mark of Odin saga!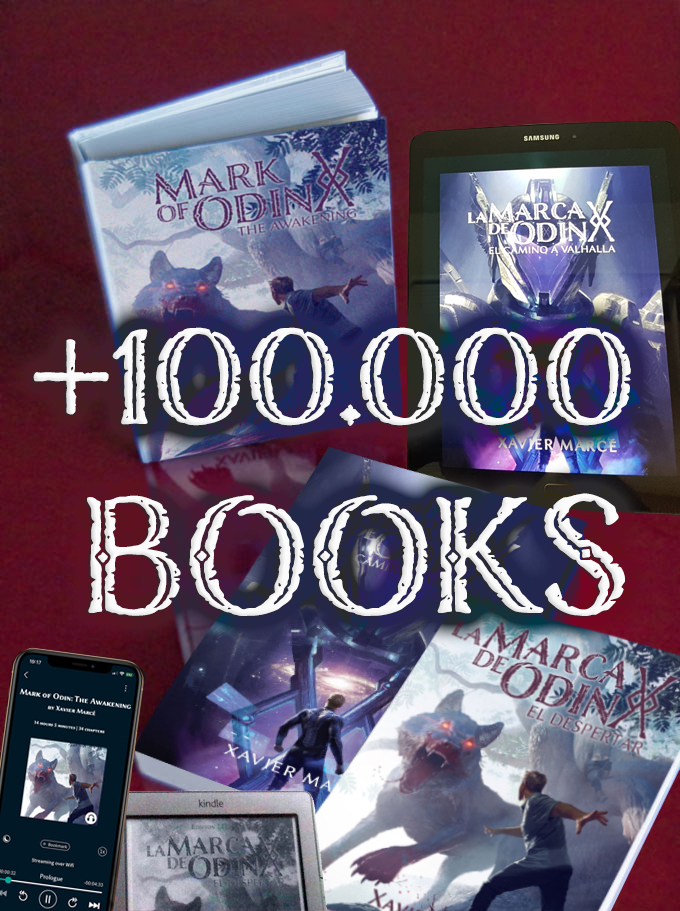 And what do you want me to say … I think it's amazing! Without a doubt, it is the best way to celebrate that in a few days it will be nine years since I launched Mark of Odin: The Awakening and the first version of the online platform. It is also the best fuel to continue producing at an insane rate the third book, Ragnarok.
If I look back, I remember when I believed that exceeding 50,000 books would be enough to be featured in the media… It was not like that. Instead, I thought that reaching 100,000 books would be the number to have critical mass and that the media would value it as something of interest. It seems that this is not the case. Now I think that, maybe, with a lot of luck and more overdose of hard work, if we hit a million, maybe, then…
And it is that in this world in which social media ceased to be so, in which if you are independent they close all the windows and doors, in which everything comes together so that the little ones suffocate and disappear and in which the costs advertising and marketing do not stop increasing wildly… There is no choice but to keep fighting and fighting and fighting, without ceasing to believe in yourself and your work through thick and thin.
Continuing at the foot of the canyon would not be possible without so many people who have supported me to get here. I'm not just talking about the one hundred thousand readers who, in one way or another, have opted to enjoy the history and literary model of Mark of Odin. I mean the great professionals who have collaborated with me to make this dream grow and make it look incredible.
I speak of Juan Marcé, Meritxell Marcé, Manu Nieto, Michael Komarck, Manuel Rico, Knut Avenstroup Haugen, Milena Brody, Johannes Rebahn, Julio Saura, Juanma Lamoca, Cristina Méndez, Belén Castro, Sergio González, Pablo Castro, María José Bogas, Andrés Mozo, Alejandro Freire, Rabindranat Acebillo, Kilian Domínguez and Pablo Paz, among others. Thank you!