Today I share the first of the fruits of my Asia Tour 2023, which is none other than having signed with the literary agency Squirrel Communication and Culture to represent me in Vietnam with the aim of reaching agreements to translate and publish my current and future books with regional publishers. The contract was signed just the last week of my stay in Hanoi and I am very pleased to have this group of literary agents to spread my works among the Vietnamese public.
From today this page will offer a Vietnamese version as well, so that Vietnamese users can follow my news and news in their language.
Below I transcribe the official statement that we have published today to announce this agreement.
---
Squirrel Communication and Culture. SCC.JSC. literary agency and the author Xavier Marcé have announced their collaboration agreement so that his works can reach the public in Vietnam. With more than 140,000 readers around the world in Spanish and English, the author Xavier Marcé wants that the Mark of Odin saga and The Stone Lotus thriller expand to the Vietnamese market.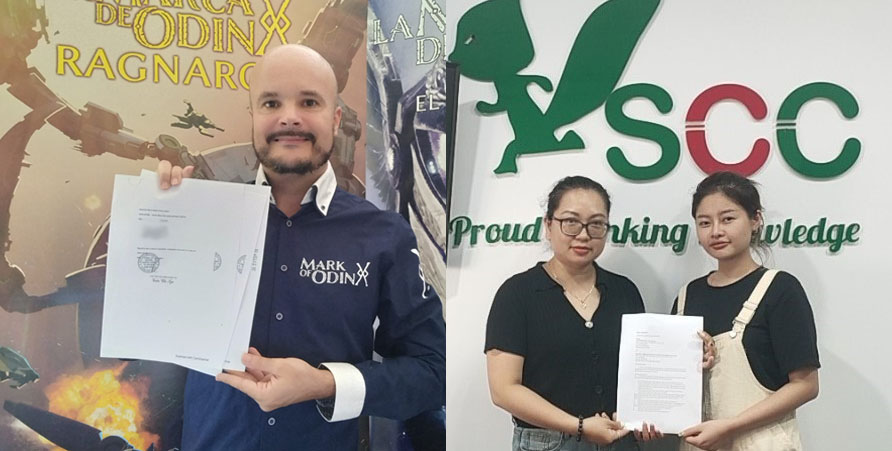 Squirrel Communication and Culture is known for being one of the largest literary agencies in Vietnam, with offices in Hanoi and Ho Chi Minh City. Its experience and contacts will be essential to reach agreements with local publishers to translate and publish the works of Xavier Marcé.
The signing of the contract took place during the last stage of the Asia Tour 2023 that author Xavier Marcé recently carried out, during his stay in Hanoi. Over the course of three months, Marcé has met with publishers, literary agents, and film and animation studios, in Thailand, Taiwan, Japan, and Vietnam. The agreement with Squirrel Communication and Culture is the first fruit of these meetings, although new surprises are expected to be announced throughout the summer regarding other markets in Southeast Asia.
'With almost 100 million inhabitants, Vietnam is undoubtedly one of the most emerging and attractive countries in Asia,' said author Xavier Marcé. 'After the publication in Spanish of The Stone Lotus, Vietnam has become a priority market for me and I am confident that the literary agents at Squirrel Communication and Culture will be the best allies to ensure that my works are soon enjoyed in Vietnamese.'

'After meeting Xavier Marcé at the Frankfurt Book Fair, it became clear to us that his work had great potential,' said Mai Anh Truong, Right Deputy Manager at Squirrel Communication and Culture. 'Seeing his growth and the publication of a novel as intriguing and exciting as The Stone Lotus, which connects Spain with Vietnam, we are convinced that we will soon ensure that Vietnamese readers can enjoy his stories.'

To celebrate this agreement, author Xavier Marcé has announced the launch of Vietnamese versions of The Stone Lotus website and his website Xaviermarce.com. From now on, users in Vietnam will be able to follow all the news in Vietnamese as well as in English and Spanish.